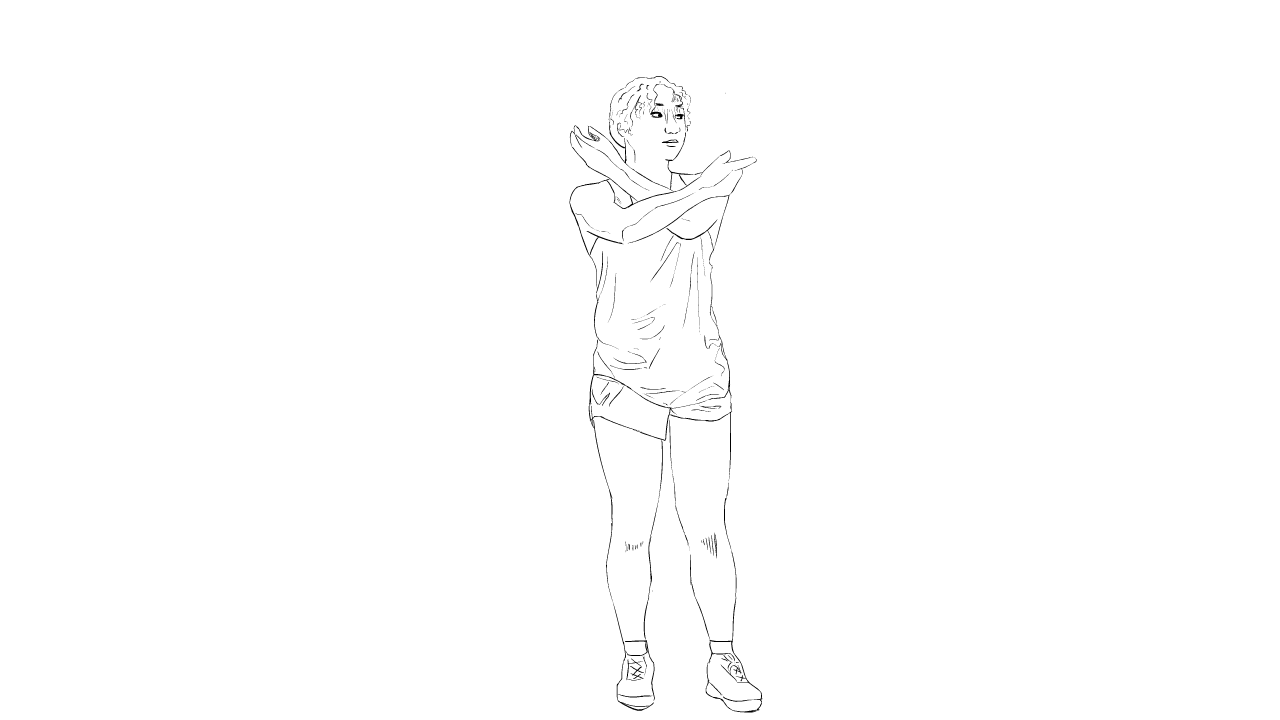 MORISATO is a collective founded by Mikaela Morisato that aspires to connect creatives from different mediums with a focus in dance. Our mission is to create new opportunities with our collaborators welcoming all races, ethnicities, sexualities, religions and bodies to work together. We want to spread more awareness for accessible ways to view and participate in sharing our talents with an inclusive mentality. Our collaborative experience includes working within the dance, choreography, film and design areas in the entertainment and art industries. As a collective, we thrive on the motivation to continue growing expansive representation and new importance through movement.
"Accepting the gifts of art is a necessity but creating it is a privilege."
​
Ragin Smith
Euphonic Connection
​
Ragin Smith is a dancer, choreographer, and performance artist based in Brooklyn. She works to develop deconstructed narratives by stringing together contexts of movement, poetry, visual art, and music. She has presented work at The Tank, Fabled Narcissism, ESTIA Day Fest, and as an artist in residence at the Jonah Bokaer Arts Foundation. She will be in process during an upcoming summer residency at Nancy Manocherian's the cell theatre. Ragin has performed works by Brendan Fernandes, Evan Ray Suzuki, Andrea Miller, Valeria Gonzalez, Morgan Bobrow-Williams, Ryan Bailey, Troy Ogilvie, La Intrusa Company, and more!​​ She received a BFA in Dance and a Minor in Business Management from Marymount Manhattan College. Aside from her freelance projects, Ragin is a member of the Wet Hairy Women Collective, Hivewild, MORISATO, and Alison Chase Performance Group. She works closely with Haley Morgan Miller to direct and produce the Fabled Narcissism arts events.
​
Liana Kleinman
Euphonic Connection
​
Liana is an interdisciplinary artist and dancer from Los Angeles, CA. She received her BFA in Dance from Marymount Manhattan College, and subsequently worked with Holly Blakey for Puma's New York Fashion Week Show and Andrea Miller for Beautiful Destinations Panama. Liana has been commissioned to create work for Opera Notre Dame and The Angel's Share at Green-Wood Cemetery in collaboration with The New York Philharmonic. Liana completed her Master's at London Contemporary Dance School researching postures of melancholia in the ecological body.
​
Caleb Patterson
Euphonic Connection
​
Caleb is a dance artist based in New York City. He has performed works by several notable choreographers such as Nathan Trice, Rena Butler and Patrick O'Brien during his education at The Joffrey Ballet School in 2014. Alongside being seen in HBO's Random Acts Of Flyness led by Domani Pompey, he has worked with artists Maleek Washington, Em Greenwell, Kayla Farrish and more. He has performed works by MATHETA dance, LaneCoArts, Spark Movement Collective, MORISATO, Kar'mel Small, Javier Padilla, Dolly Sfeir and Beatriz Castro. Caleb collaborates closely with artists Michelle Thompson Ulerich and Johnny Butler, and has presented his own work at Arts On Site, TADA! Youth Theater, Bridge For Dance and other selected commissions. He has performed in Battery Dance Festival, MATHETA's Speak Through Movement at Judson Church, Palm Desert Choreography Festival, Mare Nostrum Element's Emerging Choreographer Series, Dance Gallery Festival, CUNY Dance Initiative and others.
​
​
​
Madison Pineda
Why, Are You?
​
Madison began her training in Sacramento, CA and Keller, TX. At 16, she attended The Joffrey Ballet School's J&C Program, and in 2021, graduated with a BFA from The Juilliard School, receiving the Martha Hill Award and the Juilliard Career Advancement Fellowship Grant. She attended the Jacob's Pillow Contemporary Dance Festival, the NDT Summer Intensive, and the Arts Umbrella Summer Dance Intensive. She was a choreographer for Juilliard's 2019 ChoreoComp and was Rena Butler's choreographic assistant for Juilliard's New Dances: Edition 2021. Madison has performed works by Crystal Pite, Ohad Naharin, Marne Van Opstal, Peter Chu, Antonio Brown, and Rena Butler. She recently appeared in the Warner Brothers film, "In the Heights." and is currently dancing with GroundWorks DanceTheater.
Melissa Anderson
Why, Are You?
​
Melissa, a Dallas, TX native, began dancing at the age of five at The Ballet Academy of Texas and proudly received 3 scholarships from the Dance Council of North Texas. She attended The Juilliard School under Artistic Director Lawrence Rhodes. Throughout her Juilliard career, Melissa performed world premiers and repertoire of Sharon Eyal, Aszure Barton, Jiří Kylián, and Crystal Pite. After graduating in May 2018 with a BFA, Melissa danced in productions at The Metropolitan Opera including "La Traviata" and "Samson et Dalila". She has also had the honor of dancing in Austin McCormick's Company XIV and Alessandra Corona Performing Works.
Mamiko Nakatsugawa
RESILIENCE
​
Mamiko is a dancer, choreographer, model, and yoga teacher originally from Miyagi, Japan. She has worked with companies such as Jon Lehrer Dance Company, Project Tag, Peter + Co., wld(flwr), and Morisato. She has performed works by Paul Taylor, Katherine Maxwell, Omri Drumlevich, Merete Muenter, and so on. She has also appeared in music videos for Emmi, Laila Biali, and ATTELER. As a choreographer, she has presented her work at Flushing Town Hall, Spoke the Hub, Mark Morris Dance Center, SMUSH Gallery, Lazy Suzan Gallery, and Incu Art Gallery. Currently she is training and freelancing in NYC to define her artistic voice to connect with the works that speak to her and create works that reflect herself and the world around her.
Namhui Kim
RESILIENCE
​
Namhui Kim was born and raised in Tokyo and is of Korean heritage. Namhui came to New York City in 2017 to pursue a BA in Dance at Hunter College, CUNY, and she trained at The Ailey School as a professional division student in 2019. After graduation, she joined Nai-Ni Chen Dance Company in 2021. Her performance experiences include works by Blakeley White-McGuire, Larry Keigwin, Peter Cheng, Jessica Castro, Jere Hunt, Rebecca Margolick, Jamie Thompson, Karisma Jay, Drye/Marinaro Dance Company, Yu.S.Artistry Dance Company, Parsons Dance, Monica Bill Barnes & Company, and Doug Varone and Dancers.
​
Richard Sayama
RESILIENCE
​
Originally from Honolulu, Hawai'i, Richard Sayama earned his double major in B.F.A Modern Dance and B.A Business Arts & Management from Marymount Manhattan College. Currently, Richard works with Jon Lehrer Dance Company, General Mischief Dance Theater Group, and iKADA Contemporary Dance. In addition, Richard works with One Day Dance, McKoy Dance Project, and H.T Chen & Dancers. He has finished seasons with Rock Dance Collective, and Alison Cook Beatty Dance. He has had the pleasure of performing works by Paul Taylor, Jose Limon, Elizabeth Roxas-Dobrish, Elisabeth Motley, Maria Torres, and many more.
​
Tsubasa Nishioka
RESILIENCE
​
Tsubasa was born in Japan and started in ballet, then later in modern and contemporary. Accepted to The Ailey School in 2017, he received a scholarship in 2018 and performed at "Ailey Spirit Gala" in Alvin Ailey's "Battlefield" at Lincoln Center. Tsubasa has worked with Fumihito Shimizu, NBA Dance Company, Omar Roman de Jesus, Darshan Bhuller, Jessica Chen and Marcus Jarrell Wills. Currently he dances with i KADA Contemporary Dance Company, Vashti Dance Theater, Yu.S.Artistry and Accent Dance. He has been awarded 1st at Chiba Select Young Dancer's Performance, 3rd at Saitama Dance Competition, 3rd at Dance Competition in Sendai and 2nd at NBA National Ballet Competition.
​
Dylon Cedillo
Two
​
Dylon Cedillo is a bi-coastal dancer in both New York City and Los Angeles with roots in Dallas/Fort Worth. Growing up with a hip hop foundation he expanded his training to addition styles to become an all around dancer. Dylon decided to further his education at Pace University, he holds a BFA in Commercial Dance with an emphasis in choreography from the Pace University Commercial Dance Program. Trained in both camera and stage techniques his credits include "Sea of Chefs" by Josh Assor, "Smiling" : a short film by Dana Wilson, "Company B" by Paul Taylor, and "I Feel Love" by Ray Leeper, amongst others. Dylon is represented by Go2 Talent Agency.
Malik Berry
You Are I
​
Malik started his professional career in NYC after training with The Columbus Dance Theatre and Columbia College Chicago. On a full scholarship studying at The Ailey School and The Dance Theatre of Harlem's Professional Training Program, he performed with The Alvin Ailey American Dance Theatre in Alvin Ailey's ballet "Memoria." Along with working with companies such as Complexions Contemporary Ballet and The Dance Theatre of Harlem, he has worked with Misty Copeland, Dwight Rhoden, Desmond Richardson, Arthur Mitchell, Virginia Johnson, Robert Garland, Carmen De Lavallade, Matthew Rushin and many more. He has walked in New York Fashion Week and has been featured in Vogue Magazine with Billy Porter. Malik currently dances freelance and teaches at The Boys and Girls Club in The Bronx.
​
Brooks Houser
Why, Are You?
​
Spending most of his childhood skateboarding in Portland, Oregon, Brooks quickly developed a passion for shooting and cutting compilation videos of his friends. What started as a nascent love for visual arts quickly snowballed into a menagerie of backyard YouTube videos, short films, and photography - culminating in a formal Bachelor of Arts in cinematography & editing at The Evergreen State College. Now based in Brooklyn, New York - Brooks continues to work variously in camera, coloring, and editing.
Beaudau (Bo-day) Karel Banks
RESILIENCE

Choreographer, Dancer and Production Technician born and raised in Belize, Central America; Beaudau is a black, queer, gender non-conforming immigrant artist and Theatre Technician based in New York City. Beaudau started formal dance training at the age of thirteen studying ballet and modern dance. They were accepted and graduated with a BFA in Fine Arts from the University of South Florida BFA program in Tampa, Florida. They are now living in New York City freelancing with various dance artists while still following their love of theatre production.
​
Channing Lester
Logo Designer
​
Channing's work extends across many mediums such as drawing, painting, sculpting, graphic design, product design, animation and more. After qualifying for state competitions during her high school years, her work in painting was selected for display at VASE in 2015. She is now majoring in design, focusing in product and industrial design at University of Texas at Austin. Alongside collegiate classes, Channing is expanding her knowledge in 3D design software, SketchUp, CAD software and more. She is currently interning in furniture design and apartment layouts for Winteriors in the Dallas Arts District.