Ragin Smith


Euphonic Connection



Ragin is a dance artist based in Brooklyn, New York. She works to develop deconstructed narratives by stringing together contexts of movement, poetry, visual art, and music—plugging into the interest sparked by pecking at dormant places. Her recent projects examine the implausibility of innocence, dynamics of the subconscious, overlapping memories, and the dissonance between isolation and affection. She has performed works by Kyle Abraham, Brendan Fernandes, Valeria Gonzalez, Andrea Miller, Elizabeth Roxas-Dobrish, Loni Landon, Troy Ogilvie, La Intrusa Company, and others. She is also a creative director and co-producer of the ongoing Fabled Narcissism arts events. Ragin has a BFA in dance with concentrations in composition and modern dance, as well as a minor in business management from Marymount Manhattan College. She is a member of the Wet Hairy Women collective, Hivewild, Pacing Bodies Dance Company, and Alison Chase Performance Group.
Liana Kleinman


Euphonic Connection
Liana is an interdisciplinary artist and dancer from Los Angeles, CA. In 2018, she received her BFA in Dance from Marymount Manhattan College, and subsequently worked with GALLIM, Hivewild, Soluq Dance Theater and The Nash Conspiracy. In 2019, she was invited to The Banff Centre for Arts and Creativity's residency, Preparing the Ground, under the direction of Medhi Walerski and Pierre Pontvianne, and curated by Emily Molnar. She has been commissioned to create work for Opera Notre Dame, The Angel's Share at Green-Wood Cemetery, No-Distance Festival, and Futile Gestures Dance. As a filmmaker, she was honored to work as a video documentation intern at Jacob's Pillow Dance Festival 2016. Liana is currently pursuing her Master's at London Contemporary Dance School researching postures of melancholia in the ecological body. Melding practices of live performance with video work, she strives to curate ecosystems for audience members to find safety, indulge in absurdity, and take space to be precious with themselves.
Madison Pineda


Why, Are You?
Madison began dancing at a young age in Sacramento, CA and later in Keller, TX. After completing two years at the Joffrey Ballet School Jazz and Contemporary Program under artistic director Michael Blake, Madison studied and recently graduated The Juilliard School in June, 2021. With training at summer intensives including Jacob's Pillow Contemporary Dance Festival, the Nederlands Dance Summer Intensive and the Arts Umbrella Summer Dance Intensive, she has performed works by Bryan Arias, Marne Van Opstal, Crystal Pite, Desmond Richardson, Rena Butler, and Darrell Moultrie. With multiple achievements, Madison was recognized as one of the four recipients of The Fields Ballet Scholarship Award in 2017, awarded Julilliard's Martha Hill Award, received the Juilliard Career Advancement Fellowship Grant and was chosen to present work in Juilliard's Choreographers Composition program. Her performing highlights include dancing on the Jacob's Pillow InsideOut stage, performing Martha Graham's Rite of Spring and dancing for the new Warner Brothers film, "In the Heights."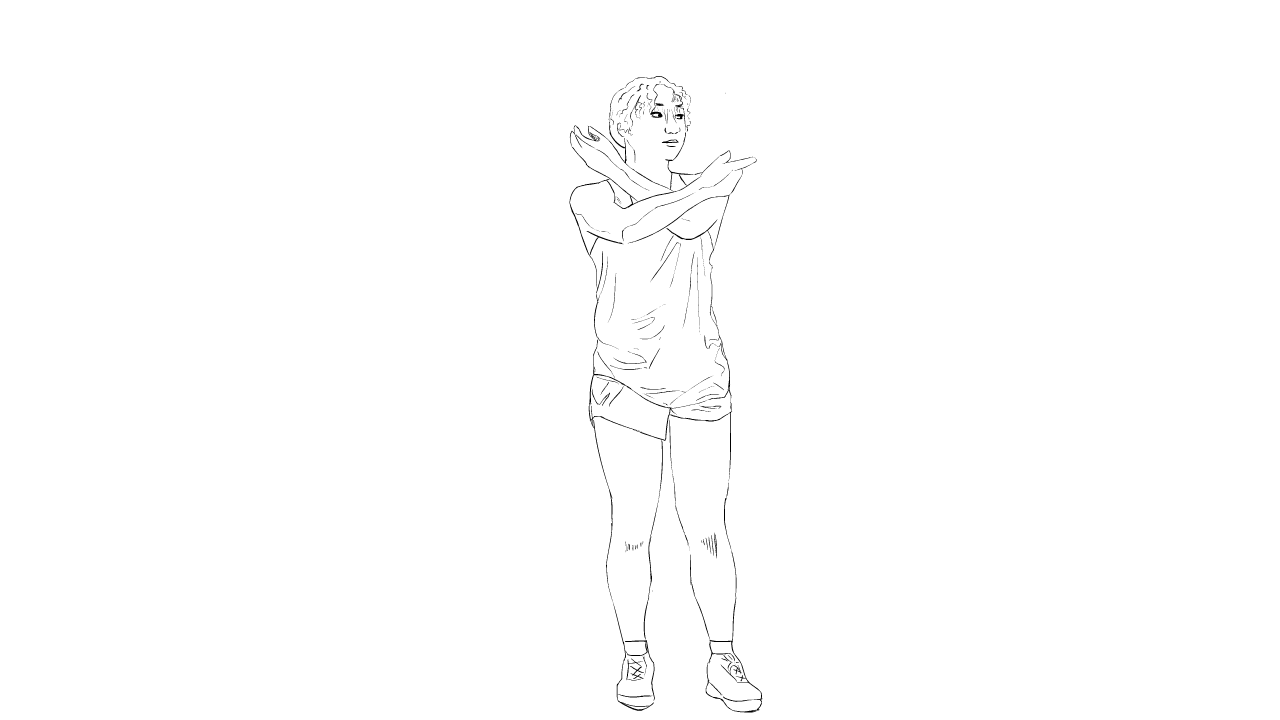 MORISATO is a collective founded by Mikaela Morisato that aspires to connect creatives from different mediums with a focus in dance. Our mission is to create new opportunities with our collaborators welcoming all races, ethnicities, sexualities, religions and bodies to work together. We want to spread more awareness for accessible ways to view and participate in sharing our talents with an inclusive mentality. Our collaborative experience includes working within the dance, choreography, film and design areas in the entertainment and art industries. We seek to feature literary, visual and performance art in our future endeavors with the addition of musicians, writers and more. As a collective, we thrive on the motivation to continue growing expansive representation and new importance through movement.
"Accepting the gifts of art is a necessity, but creating it is a privilege."
Melissa Anderson


Why, Are You?
Melissa is a native of Dallas, TX and began dancing at a young age at The Ballet Academy of Texas. She proudly received three scholarships from the Dance Council of North Texas before attending The Juilliard School under Artistic Director, Lawrence Rhodes. During her time at Juilliard, Melissa performed world premiers and repertoire of Sharon Eyal, Aszure Barton, Jiří Kylián, and Crystal Pite. After graduating with a BFA in 2018, Melissa then danced in productions such as "La Traviata" and "Samson et Dalila" at The Metropolitan Opera. With the honor of dancing in Austin McCormick's Company XIV and Alessandra Corona Performing Works, Melissa also shares her talent in freelance work based in NYC.
Mamiko Nakatsugawa


RESILIENCE
Mamiko is a dancer, choreographer, creator, collaborator, and yoga teacher from Miyagi, Japan. She is currently working for Jon Lehrer Dance Company as a company member since 2019. She had opportunities to work with various artists such as Paul Taylor, Jim Cooney, Merete Muenter, Matthew Westerby, Katherine Maxwell, Peter Chen, Omri Drumlevich, and so on. She also appeared in musical theatre nationally and internationally; Anne of Green Gables (Japan National Tour ensemble), Cabaret (Kit Kat Girls), South Pacific (Liat). As a model, she has worked on projects with companies and designers, such as Google, Canva, Flames NYC, Sunday SoHo, and Moonstruck Design.
Namhui was born and raised in Tokyo and is of Korean heritage. She began training with Hiromi Dance Company in ballet, jazz, tap, theater, and voice. She performed in many theater productions such as Annie that toured Japan. Namhui came to NY in 2017 to pursue a BA in Dance where she got opportunities to train in Parsons Dance summer intensive, and winter intensives with Monica Bill Barnes & Co. and Doug Varone and Dancers as a scholarship student. Afterwards, she started attending The Ailey School as a professional division student in 2019 and joined Yu.S.Artistry Dance Company and Nai-Ni Chen Dance Company in 2021. She has also danced in works by Blakeley White-McGuire, Larry Keigwin, Peter Cheng, Jessica Castro, Rebecca Margolick, Jamie Thompson, and Karisma Jay.
Richard Sayama


RESILIENCE
Originally from Honolulu, Hawai'i, Richard earned his double major in B.F.A. Modern Dance and B.A. Business Arts and Management from Marymount Manhattan College. Currently, Richard works with Alison Cook Beatty Dance, and Jon Lehrer Dance Company, General Mischief Dance Theatre Group, and has finished seasons with H.T. Chen & Dancers, and Rock Dance Collective. He has also performed with XY Dance Projects and Obremski Works. He has had the pleasure of performing works by Paul Taylor, Jose Limón, Elizabeth Roxas-Dobrish, Anthony Morigerato, Elisabeth Motley, Karen Gayle, and Maria Torres.
Tsubasa Nishioka


RESILIENCE
Tsubasa was born in Japan and started classical ballet, modern and contemporary at a young age under Atsuko Yamada and Fumihito Shimizu. While training at The Ailey School in 2017, he was offered to continue the certificate program in 2018 on scholarship. He has performed multiple works in both the US and Japan such as "Water Flow" choreographed by Fumihito Shimizu, "Director Selection" with NBA Ballet Dance Company and "Battlefield" in Ailey Spirit Gala in 2018 with Alvin Ailey American Dance Theater at the Lincoln Center. Throughout his career he has worked with various choreographers such as Vanessa Long, Manuel Vignoulle, Mitzi Adams, Darshan Bhuller, Omar Roman de Jesus and Marcus Jarrell Wills. Tsubasa is a current member of Vashti Dance Company, iKADA Dance Company, Saya Spring Dance Theatre, Matthew Westerby Company, Yu.S Artistry and The Dynamite Experiences.
Dylon is a bi-coastal dancer in both New York City and Los Angeles with roots in the DFW area. He holds a BFA in Commercial Dance with an emphasis in choreography from Pace University. With training in both camera and stage techniques his credits include "Smiling" a short film by Dana Wilson, "Company B" by Paul Taylor and "I Feel Love" by Ray Leeper, amongst others. Dylon is represented by Go2 Talent Agency.
Malik started his formal dance training at Fort Hayes Metropolitan High School while also attending Columbus Dance Theatre after school for ballet. After graduation, he joined The Columbus Dance Theatre and went to Columbia College Chicago for a semester before pursuing a professional dance career in New York City. With being awarded full scholarships to study at The American Ballet Theatre, Alvin Ailey American Dance Theatre and The Dance Theatre of Harlem summer intensives, Malik had the opportunity to perform with The Alvin Ailey American Dance Theatre company in Alvin Ailey's Ballet "Memoria," in addition to performing works by Dwight Rhoden, Desmond Richardson, Artuther Mitchell and Geoffrey Holder. Throughout his career he has had the honor of working on tour with Complexions Contemporary Ballet and The Dance Theatre of Harlem and has worked with Misty Copeland, Dwight Rhoden, Desmond Richardson, Arthur Mitchel, Virginia Johnson, Robert Garland, Carmen De Lavallade, Matthew Rushin and many more. As a guest, he has danced for Columbus Dance Theatre, Balletmet and Texture Contemporary Ballet. From apprenticing and performing with Complexions Contemporary Ballet, Malik now works as a guest and freelance dancer based in New York.
Peter Cheng
Mentor
Peter is a Taiwanese-American director, choreographer and dancer from San Francisco, CA and holds a B.F.A. in Dance from the University of California at Santa Barbara. During his time at UCSB, Cheng was the recipient of the Matthew Alan Plaskett Scholarship, Patricia Sparrow Memorial Fund Scholarship, and Tonia Shimin Award for Excellence and Promise in the field of dance. After graduating, he continued on to professional training with Alonzo King LINES Ballet, ODC/Dance, SFCD, Post:Ballet, Sidra Bell Dance NY, Visceral Dance Chicago, Springboard Danse Montréal, Yin Yue, NW Dance Project, and had the pleasure of learning works by Robert Dekkers, KT Nelson, Brenda Way, Liss Fain, Sharon Eyal, Stijn Celis, Ihsan Rustem, Patrick Delacroix, Flavien Esmieu (BalletBoyz) and others. He is currently a company dancer with konverjdans and has performed works by Caili Quan (BalletX), Amy Saunder, and Tiffany Mangulabnan. As the Artistic Director of PETER & CO., Cheng's work has been presented at The Garage, ODC Theater, Center Stage Theater, CPRNY, 92nd St. Y, Judson Memorial Church, Dixon Place, the Mark O'Donnell Theater, and Arts On Site. Guest Artist master class credits include: Alonzo King LINES Ballet Dance Center (2014-present), Brockus Project Studios, SALT Contemporary Dance, Barlow Arts Conservatory, UC Santa Barbara, Purdue Contemporary Dance Company, and Arizona State University.
Channing Lester
Logo Designer
Channing became inspired and passionate for the arts at a very young age. Her work extends across many mediums such as drawing, painting, sculpting, graphic design, product design, animation and more. After qualifying for state competitions during her high school years, her work in painting was selected for display at VASE in 2015. She is now majoring in design, focusing in product and industrial design at University of Texas at Austin. Alongside collegiate classes, Channing is expanding her knowledge in 3D design software, SketchUp, CAD software and more. She is currently interning in furniture design and apartment layouts for Winteriors in the Dallas Arts District.
Regan Strand
Filmmaker
Regan is our videographer with our upcoming film projects "HALLELUJAH" and "Praise" in collaboration with Regan Strand Productions. You can find more about his work through the MIROUR COLLECTIVE mirour.co and his personal work at Regan Strand Productions.
Lloyd Lenox
Filmmaker
Lloyd is a New York bred filmmaker and photographer who began his career in editorial fashion and lifestyle campaigns for brands such as Charguers PCC and Tommy Hillfiger. After three years of working in the fine art scene in association with a Brooklyn-based creative studio, he followed his desire to create in NY's underground music scene as an independent video producer and photographer. His work has been featured in ID-Mag, MilK Magazine, XXL and more. Transitioning from photography to film, Lloyd has pursued a focus in film while studying at New York Film Academy, soon to graduate in 2021. In all his creations he seeks to explore relationships between metaphor and aesthetic through highly stylized visual storytelling. With a wide range of projects spanning from live to studio work, Lloyd hopes to find the end of the rainbow in the film industry as a director and editor.